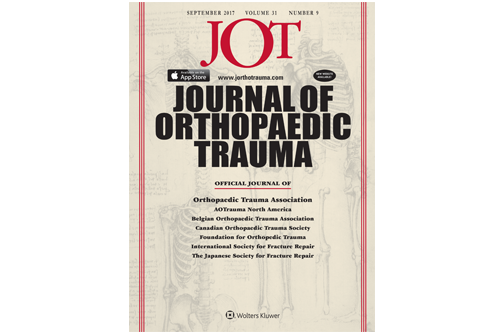 Journal of Orthopaedic Trauma is devoted exclusively to the diagnosis and management of hard and soft tissue trauma, including injuries to bone, muscle, ligament, and tendons, as well as spinal cord injuries. Under the guidance of a distinguished international board of editors, the journal provides the most current information on diagnostic techniques, new and improved surgical instruments and procedures, surgical implants and prosthetic devices, bioplastics and biometals; and physical therapy & rehabilitation.
One of the many excellent OTA member benefits is an online and/or paper mailed subscription or a highly discounted JOT subscription for some categories.
SUBSCRIPTION CHOICE

OTA MEMBER Cost       

NON-MEMBER Cost

JOT MAILED * & ONLINE JOT        

$197 USA / $197 International       

$764 USA / $914 International

 

JOT ONLINE ONLY

$99

$749 USA / $749 International
Above OTA Member rate is only available to members. You can find the JOT link on your member home page.
IF your OTA membership does not include the JOT subscription; subscribe via your OTA Member log-in menu: $99 online only subscription or $197 for both an online and a mailed paper journal.
The JOT (both paper and online) is included with the following membership categories:
Active
Associate
Clinical
Research
International (online only)
A JOT subscription may be purchased by the following membership categories at the highly discounted member rate (see above):
Active Military
Allied Health
Candidate
Emeritus
*Note: OTA Member subscriptions run January – December.  New OTA subscribers receive all journals beginning January – December of subscription year.
Important JOT Subscriber Reminders:
Contact JOT to change a mailing or email address

Your JOT Online ID # can be found on your JOT Mailing label.

Contact JOT at:




Toll-free USA: 866.489.0443




Direct Dial:      301.223.2300


Email: memberservice@lww.com