International Education
International Travel Calendar - Master Calendar of OTA member overseas work.
---
2015 OTA Annual Meeting Guest Nation
OTA is honored to welcome Germany as the 2015 OTA Guest Nation. We look forward to the participation of German colleagues at the OTA Annual Meeting, Oct. 7 – 10, 2015 in San Diego!
Ted Miclau, MD, OTA President and Peter Giannoudis, MD, OTA International Committee Chair are honored to be invited to represent the OTA, and participate at the DKOU Annual Meeting October 20 – 23, 2015, in Berlin, German.  Others interested in attending the DKOU meeting should visit this links:  

DKOU Meeting Video
2015 DKOU Meeting Website - October 20 - 23, 2015
2016 DKOU Meeting Website - October 25 - 28, 2016
---
Educational Resources
Related Links
International News
OTA Member - International Progam Travel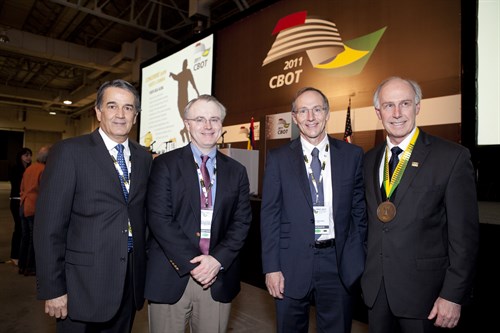 (L to R) Dr. Geraldo Motta, SBOT past president, Dr. John Sperling, Dr. David Templeman,
OTA past president, and Dr. Osvandre Lech at CBOT 2011. AAOS was Brazil's Guest Nation.