International Education
---

 2017 OTA Annual Meeting Guest Nation
OTA is honored to welcome the United Kingdom as the 2017 OTA Guest Nation. The OTA Guest Nation program was initiated in 2011 in recognition of the importance of benefits of sharing knowledge and experience with international colleagues.  We are pleased to have the opportunity for collaboration with our British Colleagues, and a chance to recognize their contributions and achievements.
33rd Annual Meeting - Vancouver, BC, Canada
11th - 14th - October 2017
United Kingdom Featured as Guest Nation
Guest Nation Attendees receive Discounted Member Registration rate of $250 ($500 USD value).
International Trauma Care Forum - Vancouver, BC, Canada
11th October 2017 includes United Kingdom's Guest Nation Speakers' Symposium
Invitation to Apply for OTA International Membership
Deadlines to Apply - 1st of November 2017
Application Fee Waived for Guest Nation Applications ($50 USD value)
2017 Online Membership Application Available until November 8, 2017
Complimentary Membership Dues for First Year of Membership (($200 UDS value)
OTA International Membership Benefits
Online Access to the Journal of Orthopaedic Trauma (JOT)
Networking and Professional Development Opportunities
Discounted Future Annual Membership Dues of $200 USD ($550 USD value)
Future Meeting and Course Discounts
---
Educational Resources
Related Links
International News
OTA Member - International Progam Travel
Dr.'s William Ricci and Ted Miclau to participate in the DKOU2017 Trauma Expofair,
October 24-27, 2017 in Berlin.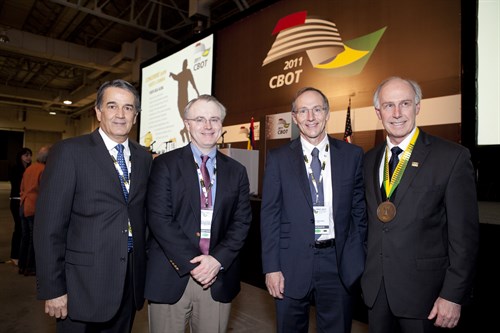 (L to R) Dr. Geraldo Motta, SBOT past president, Dr. John Sperling, Dr. David Templeman,
OTA past president, and Dr. Osvandre Lech at CBOT 2011. AAOS was Brazil's Guest Nation.
Dr.'s William Ricci and Ted Miclau to participate in the DKOU2017 Trauma Expofair, October 24-27, 2017 in Berlin