Membership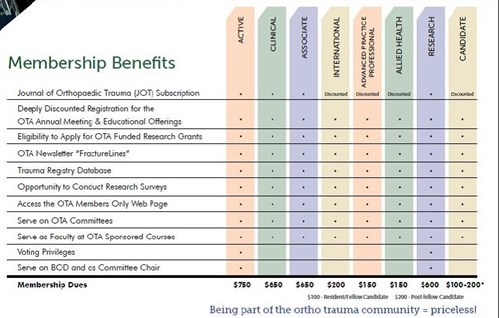 Active and Research Member Listing
Two New Enhancements to OTA Member Accounts (November 2016)
Online Membership Application 
Next Application deadline - May 1, 2017


If you are transitioning to another category, you will need to submit a new application, CV, photo and sponsor forms (sponsors not required for Associate or Clinical moving to Active).


Membership will begin in January 2017 for applicants accepted after the November 1st, 2016 deadline.
If you have ever attended an OTA Course, meeting, submitted an abstract or application, you already have an OTA user id.
Active and Research Member Listing
Pub Med - check publications
The JOT (both paper and online)  is included with the following member categories:
Active
Associate
Clinical
Research
The JOT (online) is included with International memberships.

A JOT subscription may be purchased by the following members for $197 US/$211 Canada; or, an online JOT subscription is $99/year.
Active Military
Allied Health
Candidate
Emeritus
SIGN
** email the OTA for the subscription link which is only available to members or find it on your OTA Member home page