OTA/AO Fracture and Dislocation Compendium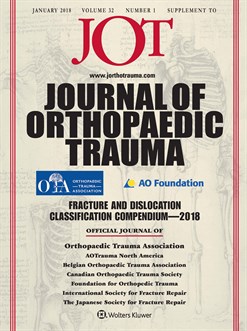 Introduction: Fracture and Dislocation Classification Compendium—2018International Comprehensive Classification of Fractures and Dislocations Committee
The compendium is branded as the AO/OTA or OTA/AO Fracture and Dislocation Classification Compendium. In publications, it will be cited as Meinberg E, Agel J, Roberts C, et al. Fracture and Dislocation Classification Compendium–2018, Journal of Orthopaedic Trauma. Volume 32: Number 1; Supplement, January 2018.
Future publications related to the revised Compendium will be authored and referenced as determined by the International Comprehensive Classification of Fractures and Dislocations Committee (ICCFC), irrespective of its member composition.
To view the OTA/AO Fracture and Dislocation Classification Compendium as a pdf, please click here
As published in the Journal of Orthopaedic Trauma January 2018, Volume 32, Supplement 1© 2018 Lippincott Williams & Wilkins. 
To encourage the use of this classification and the fracture classification compendium, the figures may be reproduced and the classification may be used for research, educational and or medical purposes without the need to request permission from the OTA, AO Foundation or the publisher.  It cannot be used commercially or for-profit without permission of the publisher.
For permission for commercial or for-profit usage please view the Rights and Permissons page on the JOT website. For questions about the Rightslink service, email Customer Care or call 800-638-3030 (U.S. Only) or 301-223-2300.