Online Video Technique Library

Click below to view videos in the library.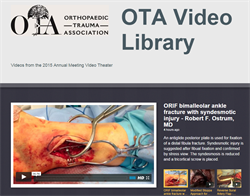 View the OTA Current Video Library Selections
Submit a video to the OTA Video Library  
The Education Committee is seeking YOUR help to continue to grow the video techniques library. 
Deadline to be considered for the 2018 OTA Annual Meeting is May 31st, 2018!
Videos selected for the 2018 OTA Annual Meeting Video Showcase will also be considered for publication in a Journal of Orthopaedic Trauma (JOT) Video Supplement (with the written abstract being treated as a "peer-reviewed" publication, while authors retain copyright of the video). 
Note: Video copyright remains with the author.
View video topics wanted to complete the OTA Video Library!