Meetings and Courses
Upcoming Meetings and Events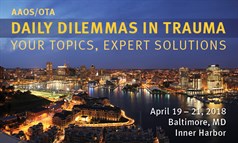 Paul Tornetta, MD - Chair / J. Tracy Watson, MD - Co-Chair
Enjoy world-class dining and shopping, live music venues, waterfront tours and cruises, and museums for every interest in beautiful Baltimore's Inner Harbor.
View more information on the
Baltimore Inner Harbor 
OTA Spring Fellows Course (Boston) April 26-29, 2018**
Paul Tornetta, MD - Course Chair
**This course is limited to 2017/2018 Trauma Fellows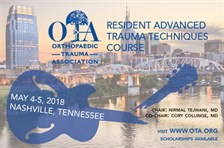 Nashville, TN
May 4-5, 2018
Scholarships Available!!
Nirmal Tejwani, MD - Chair / Cory Collinge, MD - Co-Chair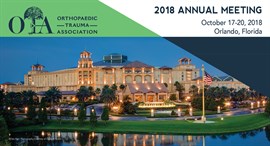 Orlando, FL
October 17-20, 2018
OTA 2018 Annual Meeting
Michael Gardner, MD - Chair / Stephen Kottmeier, MD - Co-Chair 

Resident Comprehensive Fracture Course (Orlando, Florida) - October 17-19, 2018 
Carla Smith, MD - Chair / Michael Leslie, MD - Co-Chair
---
2019
OTA Spring Resident Comprehensive Fracture Course - date TBD
OTA Spring Fellows Course (Boston, MA) April 25 - April 28, 2019
OTA Annual Meeting (Denver, Colorado) - September 25 - 28, 2019
Resident Comprehensive Fracture Course (Denver, Colorado) - September 25-27, 2019
---
2020
OTA Annual Meeting (Nashville, TN) - September 30 - October 3, 2020
Resident Comprehensive Fracture Course (Nashville, TN) - September 30 - October 2, 2020 
---
2021
OTA Annual Meeting (Ft. Worth, TX) - October 20 - October 23, 2021
Resident Comprehensive Fracture Course (Ft. Worth, TX) - October 20 - October 22, 2021