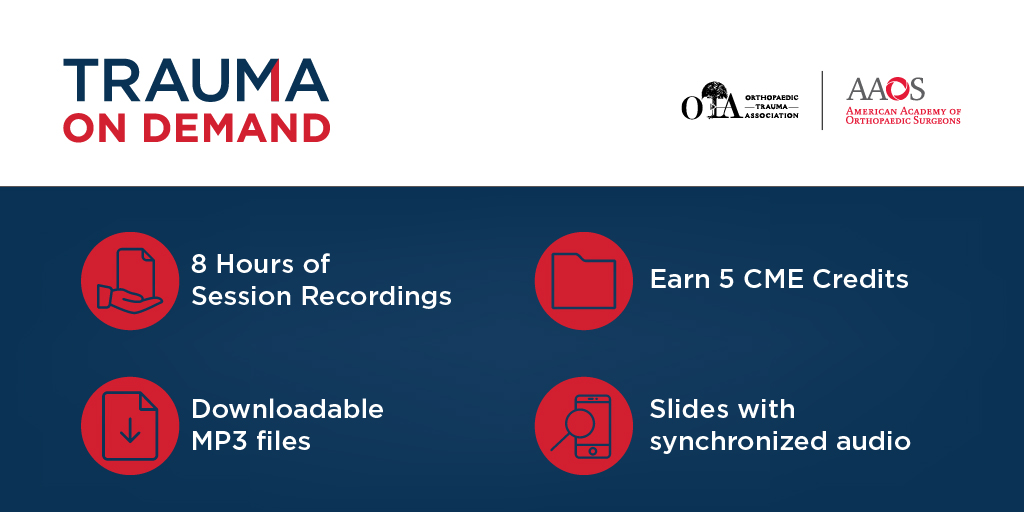 Trauma On Demand Library
We hope you enjoyed AAOS/OTA Daily Dilemmas in Trauma! AAOS and OTA have partnered with Wolters Kluwer and Learner's Digest to produce and offer the new Trauma On Demand so you can revisit the knowledge and insights presented at this year's course anytime, anywhere. 

With 8 hours of recorded presentations, this online program will help you improve practice performance and build valuable skills through engaging recorded debates, case reviews, and surgical videos.

A state‐of‐the‐art media player
Trauma On Demand's state‐of‐the‐art technology makes it easy to view sessions when and where it's convenient for you — from the comfort of your home, office or while traveling. 
Watch like you're there in person. Combine slides with synchronized audio. 

Learn at your desk or on the go. Watch presentations on your computer, tablet, or smart phone. 

Earn credits and satisfy your requirements. Look for the CME test button on selected sessions — Earn 5 CME credits! 

Learn offline and take notes. PDFs of slides can be downloaded for easier review and note taking. 

Listen while you learn. MP3 audio files are easily loaded, so you can listen to sessions while on the go.