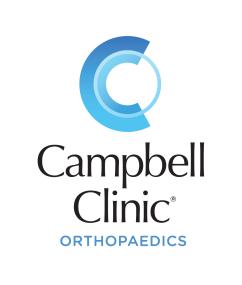 Orthopaedic Surgeon Hospitalist                                                        
Campbell Clinic, Memphis, TN
Campbell Clinic, a private orthopaedic practice in Memphis, Tennessee is actively recruiting an orthopaedic surgeon for a hospitalist position. This position will involve daytime, inpatient orthopaedic care at a Level 2 and 3 hospital facility. Subspecialty support is available for complex, tertiary-care cases. Resident teaching & education will be required. An academic appointment is possible through the University of Tennessee-Campbell Clinic Department of Orthopaedics consistent with the level of academic accomplishment.
Campbell Clinic is recognized as a national leader in surgery of the hand, hip, foot, knee, shoulder and spine,  sports medicine, pediatric orthopaedics, joint replacement, orthopaedic oncology, orthopaedic trauma, physical medicine and rehabilitation, and urgent care. We currently have 40 plus providers, with fellowship-trained surgeons represented in every subspecialty. We care for patients throughout their life, treating congenital issues as well as bone and joint problems affecting senior adults. The mission of the Campbell Clinic is to provide unsurpassed patient care while being recognized as a leader in teaching and research in the profession of orthopaedic surgery. We carry out our mission through our core values: excellence, integrity, compassion, commitment, innovation, legacy, and unity. We also support underserved patients in our community.
Compensation and Benefits:
Compensation package to include a combination of base salary and an incentive distribution/ bonus distributed share

Benefits package includes paid medical premiums, malpractice, licensure, paid CME, long term disability, long term care, umbrella policy, both a well-funded 401(k) retirement and pension plans
Requirements:
Board eligible/board certified

Willing to cover Level 2 orthopaedic trauma

Ability to obtain Tennessee and Mississippi state licensures

Interest in student/resident/fellow teaching

Skill set including basic trauma care
Posted: 1/9/2023