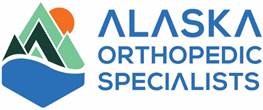 Physician Assistant
Alaska Orthopedic Specialists is seeking a full-time Physician Assistant in a fast-paced specialized orthopedic surgical practice. AOS provides services for all ages to treat shoulder to fingertip and hip to foot including trauma, joint replacement, and sports medicine. Orthopedic/Surgical experience is preferred, but not required and we are willing to train a new graduate.
The ideal team member will be motivated, flexible, able to multitask, and displays an interest in expanding their knowledge under the mentorship of supervising or collaborating physicians. Must be energetic, empathetic, organized, & have a dynamic attitude that contributes to the positive atmosphere of our expanding practice! Duties to include, but not limited to: conducting new & follow-up exams in clinic; writing prescriptions; in office procedures; assisting in surgery. Other assigned duties include assisting physicians with EMTALA call, after-hours clinic call, and administrative duties.
The position work schedule would mirror that of the primary supervising physician. PA can expect Monday – Friday in either clinic and/or surgery, with additional varying call days based on the assignments given by the supervising physician.
This position requires current NCCPA certification.
Our competitive compensation plan includes paid holidays & generous paid leave, 401K retirement plan, comprehensive insurance coverage at practically no cost for employees (dental, vision, health, disability & life). Salary is negotiable.
Learn more about AOS at https://www.akortho.com
Interested applicants can send resume and cover letter to kmasterson@akortho.com
Posted: 9/19/2022