Assistant/Associate Professor Level Position
TRAUMA ACADEMIC POSITION UNIVERSITY OF CALIFORNIA, SAN FRANCISCO
The University of California, San Francisco, Department of Orthopaedic Surgery is recruiting for an orthopaedic surgeon with fellowship training in orthopaedic trauma. This full-time appointment will be at the Assistant or Associate Professor level, commensurate with experience.
The incumbent will participate in departmental clinical, teaching, and research activities at the University of California, San Francisco, including Marin General Hospital, the Zuckerberg San Francisco General Hospital Orthopaedic Trauma Institute, and affiliated hospitals. The incumbent will be expected to collaborate in clinical and/or basic research as well as publish subsequent results in peer-reviewed journals. The selected individual will also be responsible for and provide an integral role in teaching clinically relevant topics for residents, medical students, and fellows.
Requirements:
A valid California medical license will be required as a condition of employment.

Board certified or eligible in Orthopaedic Surgery.

Completed an accredited Orthopaedic Surgery residency program.

Completed fellowship training in orthopaedic trauma.

Associate level candidates will have clinical experience beyond the fellowship year and experience in research and teaching in an academic institution.

All of the requirements must be met by the appointment date.

Applicant's materials must list (pending) qualifications upon submission.
Please apply online with CV, cover letter, statement of contribution to diversity, statement of research, and a statement of teaching at https://apptrkr.com/4517229.
The posted UC salary scales set the minimum pay determined by rank and step at appointment. See Table 5: https://www.ucop.edu/academic-personnel-programs/_files/2022-23/oct-2022-salary-scales/t5-summary.pdf. The minimum base salary range for this position is $135,700 - $213,500. This position includes membership in the health sciences compensation plan (https://ucop.edu/academic-personnel-programs/_files/apm/apm-670.pdf) which provides for eligibility for additional compensation.
UC San Francisco seeks candidates whose experience, teaching, research, or community service that has prepared them to contribute to our commitment to diversity and excellence. The University of California is an Equal Opportunity/Affirmative Action Employer. All qualified applicants will receive consideration for employment without regard to race, color, religion, sex, sexual orientation, gender identity, national origin, disability, age or protected veteran status.
Posted 8-24-2023
__________________________________________________________________________________________________________________

Golden State Orthopedics & Spine
Position: Trauma Orthopedic Surgeon
Walnut Creek, CA
We have an exciting opportunity for a Trauma Orthopedic Surgeon at Golden State Orthopedics & Spine, CA. At Golden State Orthopedics & Spine, we are a leader in the Orthopedic Healthcare Industry and one of the largest Orthopedic Practices in the Western United States. You'll be part of a dedicated group of professionals with the resources, training and expertise to provide patients with the most advanced orthopedic care.
Practice Highlights:
Affiliation with a Nationally Recognized Hospital: Join our esteemed team and become affiliated with a prestigious US News #35 ranked hospital in the country for Orthopedics. Collaborate with renowned orthopedic surgeons and be part of a culture of excellence and innovation, further enhancing your professional growth and reputation.
Level II Trauma Hospital Affiliations: Work at two state-of-the-art Level II trauma hospitals, renowned for their commitment to exceptional patient care.  Ortho Trauma operating room on hold for fracture service daily. 
Outpatient Surgery Center Opportunities: Take advantage of our outpatient surgery center, which offers a range of opportunities for ambulatory fractures. Expand your skill set and explore new avenues for patient care in a cutting-edge environment.
Partner Track: We believe in recognizing and fostering talent within our organization. As a trauma surgeon, you'll have the opportunity to embark on a 2-year partner track, which opens doors to leadership roles and enhanced professional growth.
Large Single Specialty Practice: Join a thriving single specialty practice with a strong arthroplasty service line. Collaborate with highly skilled colleagues, share knowledge, and contribute to a culture of collaboration and excellence. Take advantage of a supportive environment that values professional growth and provides ample opportunities for advancement.
Ideal Bay Area Location: Enjoy the perks of living and working in the coveted Bay Area, renowned for its vibrant culture, stunning landscapes, and diverse communities. Benefit from an ideal work-life balance and access to top-tier public and private schools, ensuring an exceptional quality of life for you and your family.
Recruitment Package may include:
Excellent compensation package, with production based bonus structure

Competitive Call Stipend included for Trauma or Community based ED coverage

Benefits package includes time away for vacations and conferences, health/vision/dental insurance along with full malpractice coverage, disability coverage, deferred compensation and retirement savings options.

Ancillary Investment Opportunities available
Compensation:
Base annual salary of $250,000 with opportunities for additional compensation through call stipend, distributions from a robust and successful of group ancillary services and more.
For additional information or to apply please send your CV to Human Resources team at recruiting@goldenstateortho.com
Jasmine Wong
recruiting@goldenstateortho.com
Posted 7/30/2023
__________________________________________________________________________________

Full-Time Orthopaedic Trauma Surgeon for Large Public Health and Hospital System in Silicon Valley 
Better Health for All
County of Santa Clara Health System (CSCHS), a large public teaching healthcare system, affiliated with Stanford University School of Medicine, is seeking a full-time BE/BC orthopedic trauma surgeon with fellowship training in orthopaedic trauma, in our Department of Orthopaedic Surgery.
About the organization
County of Santa Clara Health System (CSCHS) is the second-largest County-owned health and hospital system in California and is committed to improving the health of the 1.9 million people of Santa Clara County. Santa Clara Valley Healthcare (SCVH), an agency of CSCHS, is comprised of three hospitals:  Santa Clara Valley Medical Center (SCVMC - a 731-bed central hospital), O'Connor Hospital (OCH - 358 licensed beds), and Saint Louise Regional Hospital (SLRH – 93 licensed beds). 
About the Department of Orthopaedic Surgery
Department of Orthopaedic Surgery at Santa Clara Valley Medical Center (SCVMC) provides direct care to the patients of Santa Clara County at the SCVMC ACS certified Level-1 trauma center and also facilitates the coordination of fracture care within the greater Santa Clara Valley Healthcare system, which includes O'Connor Hospital and St. Louise Regional Hospital.
About the Division of Orthpaedic Trauma Service
The Orthopaedic Trauma Service is team of three fellowship-trained orthopedic trauma surgeons in the clinical care of patients, education and training of Stanford University Medical Students and Orthopaedic Residents, and participate in hospital and system-wide quality improvement projects. SCVMC Orthopaedists serve as affiliated faculty of the Stanford Department of Orthopaedic Surgery with frequent collaboration on research and clinical care initiatives.
About the Position
Preferred candidates will be comfortable in the management of the poly-trauma patient including pelvic and acetabular surgery, periarticular injuries, and sequelae of trauma including infection, nonunion, and deformity. Ideal candidates will also possess a strong focus on interdisciplinary quality improvement initiatives and clinical care pathway development. This position is ideal for highly motivated surgeons with a desire to help shape a growing orthopaedic trauma service while functioning as a clinical educator in a high-volume trauma center.
Candidates must have or be eligible for a California Medical License, have or be eligible for a California Fluoroscopy license, have an MD/DO degree, be ABOS board-certified or board-eligible in Orthopaedic Surgery, and have completed a 1 year OTA-certified fellowship in orthopaedic trauma.
About compensation and benefits
We offer competitive compensation, generous comprehensive benefit package (including 54 days of leave per year and 5 CME days), paid malpractice (with tail coverage), vibrant professional environment, opportunity for career growth, and the opportunity to serve a multicultural patient population.   
If you are interested in joining a practice with unparalleled personal and professional advantages, then please submit your letter of interest and CV to Roya Rousta at MD.Recruitment@hhs.sccgov.org.
The San Francisco Bay Area is well known for its rich diversity of cultures.  Santa Clara County Health System (CSCHS) seeks candidates whose experiences have prepared them to contribute to our commitment to diversity and excellence. The County of Santa Clara is an Equal Opportunity Employer. 
https://www.scvmc.org/careers/physician-recruitment-services
Posted 5/31/23
___________________________________________________________________________
Orthopedic Trauma Physician Assistant Full time position. 
St. Joseph Hospital-Eureka is seeking a full-time Orthopedic physician assistant to join a growing hospital dedicated to serving the orthopedic trauma community of Northern California. In this role, your duties will include working in high-volume clinic and surgical first-assist. Enjoy an outstanding quality of life in the coastal community of Eureka, right in the heart of Northern California.
* CME days and dollars, relocation assistance and sign-on bonus available
* Monday to Friday schedule with 1 in 5 weekend call
* 1 to 2 years of experience required with active California License
* Compensation between $77.09 and $103.18 per hour
* The compensation amounts listed may include productivity or quality/service incentives, call pay, extra shift incentives, as applicable to the position. In addition, providers may have CME benefits available to them.
 * Comprehensive benefits include health, vision, dental and retirement
Position is looking to be filled immediately. 
To apply please email a letter of interest and resume to: CAorthotrauma@gmail.com
Posted: 5/22/2023
______________________________________________________________________________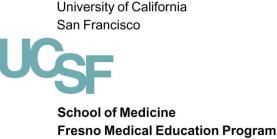 Fresno, CA
UCSF Fresno Orthopaedic Trauma Surgeon
UCSF Fresno Orthopaedic Surgery Residency Program and Central California Faculty Medical Group (CCFMG) are currently recruiting an Orthopaedic Trauma Fellowship Trained Orthopaedic Surgeon. The Orthopaedic Surgery Residency Program is fully accredited by the ACGME. At the time of hire, the applicant must have completed an Orthopaedic Surgery Residency program, a year of Fellowship training in Orthopaedic Traumatology, must be board certified or board eligible in Orthopaedic Surgery, and be able to obtain a California Medical License and a fluoroscopy permit through the California Department of Public Health Radiology Branch. Applicant's materials must list (pending) qualifications upon submission. Applicants are expected to have excellent clinical and procedural skills, be willing to actively participate in medical education, and preferably have experience and interest in clinical research. Faculty appointment with UCSF will be commensurate with the applicant's background and accomplishments.
The program is located in Fresno, California, where residents enjoy a quality of life uniquely Californian, yet surprisingly affordable. Limitless recreational opportunities and spectacular scenery is all accessible in a community with abundant affordable housing and outstanding public schools. While there is much to see and do in Fresno, the city is ideally located for fast, convenient getaways to the majestic Sierra (just 60 minutes away) as well as the scenic Central Coast, just two and one-half hours away. Fresno is the only major city in the country with close proximity to three national parks, including renowned Yosemite National Park.
Join this large faculty medical group in central California with excellent clinical and teaching opportunities.
Salary: $250,000-$600,000. The range listed is exclusively for base compensation for full-time employment and does not include incentive compensation or benefits.  Actual compensation may be adjusted for experience, training, hospital/community need and other factors.  Actual compensation may also vary based on additional services, including call coverage, administrative services, performance bonus, and/or productivity.
To apply, send CV to Stephanie Delgado, Physician Recruitment Manager, Stephanie.delgado@ccfmg.org.
Posted 5/5/2023