ORTHOPEDIC TRAUMA – LEVEL 1 TRAUMA
Banner Health: Banner Thunderbird Medical Center
Phoenix, AZ
Position Description
ESTABLISHED & GROWING MEDICAL GROUP IN THE HEART OF THE PHOENIX NW VALLEY                                                                                                                                                                                                                                                                                                          JOIN BANNER MEDICAL GROUP (BMG) AS WE EXPAND OUR MARKET SHARES IN GLENDALE, AZ
Based out of Banner Thunderbird Medical Center (BTMC)

Potential leadership opportunity for the right candidate

Established & expanding patient base supported by a growing BMG Primary Care presence

Qualified candidate to join a team that supports robust inpatient services, minimal outpatient

Dedicated PA support

Work schedule: 7 days on | 7 days off (182 shifts/year)
Banner Thunderbird Medical Center (BTMC) has served the Northwest Valley for more than 25 years with an unrelenting focus on excellent patient care. A recently completed $290 million expansion showcases BTMC's Level I Adult Trauma Center, 500+ beds, state-of-the-art surgical suites and full complement of medical sub-specialties support a growing patient base and the vibrant Glendale and surrounding communities.       
Geographical High Points:
Phoenix West Valley offers premier restaurants, shopping, and nightlife

Endless recreational activities including hiking, cycling, boating, golf and more

Excellent public & private school options 

Active high school, college, and professional sports
Banner Health is a financially-sound non-profit organization, with a Fitch rating of AA-. We focus on excellent patient care and experience, and value the voice of our providers.  We take pride in being integrated and innovative, developing ways for  Health Care Made Easier, Life Made Better. 
WE OFFER YOU competitive base salary plus production incentives (wRVU and quality metrics) + paid  malpractice with tail  + paid CME + 401k matching and 457(b) deferred compensation plans + sign-on bonus and relocation + excellent health benefit options for you & your family + career advancement and optimal work/life balance + dedicated resources for the well-being of our providers
As an equal opportunity and affirmative action employer, Banner health and Banner Medical Group (BMG)  recognizes the power of a diverse community and encourages applications from individuals with varied experiences and backgrounds. BUMG is an EEO/AA - M/W/D/V Employer.
Required Credentials
BC/BE Orthopedic Trauma | Fellowship Training required
Contact Information
PLEASE SUBMIT YOUR CV FOR IMMEDIATE CONSIDERATION to doctors@bannerhealth.com                                                                                                          Contact Jamie Bean at 970-810-2743 for additional details
Posted 10-25-23
_____________________________________________________________________________________________________________
PHYSICIAN ASSISTANT
ORTHOPEDIC TRAUMA/SURGERY
The Department of Orthopedics of District Medical Group Inc. (DMG), a 450+ physician multi-specialty group exclusively contracted to provide patient care and teaching for the Valleywise Health Care System at Valleywise Medical Center (VWMC) is actively seeking a full-time Orthopedic Physician Assistant.  The position, which includes employment through DMG, will assist the attending surgeons in orthopedics to deliver quality patient care services at VWMC a public hospital and state designated Level 1 Adult and Pediatric Trauma Center.
Orthopedic P.A. Essential Responsibilities As Delegated by the Supervising Physician:
Perform history and physical examinations of patients in both the inpatient and outpatient setting

Enter patient orders as directed

Review and discuss results of medical imaging and laboratory studies with attending physician, hospital staff, and/or patients as appropriate

Make hospital rounds and write notes daily on patients

Assist attending surgeon in the operating room

Participate in trauma call schedule, 6-7 shifts per month
The Department of Orthopedics with DMG provides a diverse work experience in both Level 1 trauma/emergent related orthopedic injuries and an elective practice based at VWMC.  As an employee of DMG you will be offered:
A competitive compensation plan, with an above median starting salary

Comprehensive benefits package including

Medical/Dental/Vision/Life/Disability/Supplemental Life

Paid Time Off

CME Allowance with paid time off

Retirement and 401k Benefits

Flexible Spending Accounts

Paid medical malpractice insurance
For consideration, please forward CV by E-mail: practice@dmgaz.org
EOE.
Posted 10/4/23
__________________________________________________________________________________________________________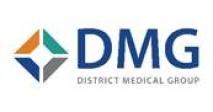 ORTHOPEDIC TRAUMA SURGEON
District Medical Group
Department of Orthopedics
Valleywise Health
Phoenix, Arizona
An opportunity exists in the Department of Orthopedics with District Medical Group Inc., ("DMG") for a full time Orthopedic surgeon fellowship trained in Orthopedic Trauma Surgery.  The Department of Orthopedics staffs a community-based hospital with state designated   Level 1 Trauma- ACS Verified Centers in the metropolitan Phoenix area (Valleywise Health Medical Center).    
The physician's practice will include orthopedic Level 1 trauma call, inpatient care, outpatient clinic and an option to develop an elective practice.  The physician will supervise and work closely with orthopedic physician assistants and have an opportunity for teaching residents and medical students.   
Candidates must possess an M. D. or D.O. degree, be currently Board-certified or Board eligible and actively pursuing Board certification, be able to attain or have an Arizona license, and have completed an Orthopedic Trauma Fellowship. Additional fellowship training is beneficial.  Previous Level 1 Trauma experience is beneficial. 
DMG offers an outstanding work environment, competitive compensation plan/benefits package and company paid medical malpractice insurance. 
DMG is a not-for-profit multispecialty practice group, consisting of more than 650 providers who represent all the major medical and surgical specialties and subspecialties. 
Forward CV and letters of interest by email to practice@dmgaz.org
EOE.
Posted 9/18/2023
______________________________________________________________________________________________________

Orthopaedic Trauma Surgeon
Dignity Health Medical Group
Common Spirit Health System
Phoenix Arizona
Position Details:
Based out of St Joseph Hospital Medical Center (SJHMC)

Fellowship Training in Orthopedic Trauma

Work Schedule 1:5 call

Full APP call coverage 24/7

Dedicated ortho trauma OR room/staff 7 days/week

Academic Position with Creighton Medical School – Phoenix
Dignity Health Medical Group works in partnership with St Joseph Hospital Medical Center (SJHMC), the oldest ACS-verified Level I trauma center in central Phoenix. Our team's focus is driven around being leaders in education, centered on evidenced based medicine while ensuring consistent collaboration and communications within the team. Our orthopedic trauma team consists of multiple physicians and advanced practitioners, who partner with both hospital physicians and our trauma surgeons in order to provide the best possible care to our patients.
SJHMC evaluated 100,00 patients in the emergency department and 2,800 trauma patients (85% blunt) last year. The trauma bay consists of 10 bays with advanced digital imaging, splinting/orthotic coverage, and anesthesia support.  We have excellent subspecialty support, including Nine fellowship trained trauma surgeons, dedicated 24/7 trauma room, 120+ ICU rooms, Barrow Neurological Institute (BNI), Norton Thoracic Institute (NTI), and a Team S (special hospitalist service only for the surgical services).
PHOENIZ, ARIZONA:
Phoenix, valley of the sun, is the 5th largest city in the US with approximately 5M people.   It has been the fastest growing city the past 5 years in a row.  Within the same day, one can ski or hike in Flagstaff or Sedona or swim in the pacific ocean.  The Grand Canyon, Lake Powell, Lake Havasu, Sedona, Mt Lemon, Salt River, Horseshoe Bend, Lake Pleasant, and Seguro Lake are all within driving distance.  We are a 5 hour drive or 1 hour flight from San Diego or Las Vegas.  The weather is awesome 9 months a year with 340+ sunny days a year.  When the summer weather is hot you can hop in your pool or drive 2 hours away where the weather is always 30 degrees cooler.  Centrally, Phoenix has an 8 square mile park with elevation gains of 1200 feet.  The city is connected with endless canal connections to ride your bike, run, or walk.
DIGNITY HEALH MEDICAL GROUP OVERVIEW:
With over 240 physicians and 800 total employees, Dignity Health Medical Group – Arizona is a comprehensive, integrated, multispecialty, academic medical group that serves Dignity Health St. Joseph's and Westgate Medical Centers, Chandler Regional Medical Center, and Mercy Gilbert Medical Center. The physicians of DHMG – AZ are regularly involved with clinical duties, as well as academics and translational bench research, keeping the enhancement of care and the patient experience at the forefront of the work that they do.
ABOUT THE CULTURE OF DIGNITY HEALTH:
Dignity Health, as part of CommonSpirit Health—the largest not-for-profit healthcare organization in the nation.  The mission of Dignity Health Medical Group is consistent with Dignity Health's mission and St. Joseph's guiding principles with a focus on innovative clinical care and the pursuit of excellence through scholarly activities. As part of the Dignity Health hospital system, DHMG has full access to the staff and all facilities on our hospital campuses. This unique relationship with our hospital allows Dignity Health Medical Group to provide its patients with state-of-the-art patient services including care of the poor and disenfranchised.
CREIGHTON MEDICAL SCHOOL - PHOENIX:
Creighton medical school – phoenix is the sister medical school based in Nebraska,  As of summer of 2021, the medical school has 900 medical students in a beautiful 8 story building on campus.  It has a revolutionary "Knowledge Donor Program" providing life like cadaveric dissection and learning.  You will earn an academic ranking commiserate with work and achievement.  Creighton provides full CME, research, and publication support.  Future goals will be an orthopaedic residency and orthopaedic trauma fellowship programs in combination with Chandler Regional Medical Center.
What We Offer
Competitive salary and excellent benefits package

Sign on Bonus/Relocation

Fully covered life and disability insurance

Fully funded pension in addition to 403(b)

CME benefits
SUBMIT YOUR CV TODAY FOR IMMEDIATE CONSIDERATION
Clifford B Jones, MD, Chairman Orthopaedic Surgery Dignity Health Medical Group, at: (480) 521-1614. Clifford.jones@commonspirit.org. Visit our website at: https://www.dignityhealth.org/dhmg-arizona
Posted 6-20-23