OTA AFA Award
First OTA AFA Community Surgeon Achievement Award recipient announced.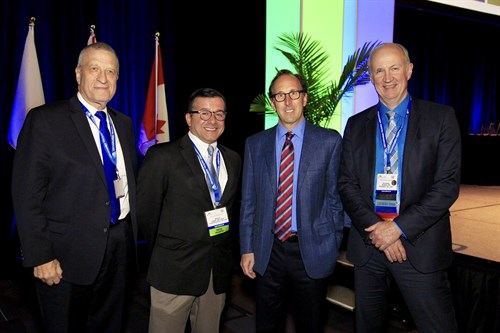 Photo taken at OTA Award Ceremony in Vancouver, October 13, 2017.
(Left to right): AFA former BOD President: Geoffrey M. Miller, MD; Community Surgeon Award Recipient: Bruce H. Ziran, MD; OTA President: William M. Ricci, MD; OTA 2nd President Elect and 2017 Annual Meeting Program Chair: Michael D. McKee, MD
The Community Surgeon Achievement Award (CSAA) Selection Committee, co-founded by the Orthopaedic Trauma Association (OTA) and American Fracture Association (AFA) has chosen the 2017 award recipient: Bruce H. Ziran MD, FACS.
The selection committee was comprised of 2 OTA members, Dr. Steve Olson and Dr. Tim Bray; and 3 AFA-OTA members, Dr. James Elmes; Dr. Geoffrey Miller and Dr. Steve Rabin.  Dr. Ziran will now join the Review Committee to select the 2018 Community Surgeon Achievement Award.
Dr. Steve Olson summarized this distinction well:
"It is an honor to be so recognized by your peers for demonstrating outstanding contributions and dedication of your professional life to improving research and education to trauma care in your community."
Watch for this Member Award Submission Invite in February for 2018.  Nominate yourself or a colleague for this esteemed award. Deadline is March 15, 2018.
Award Criteria:
The recipient of this prestigious award must meet the following eligibility requirements:
•              Demonstrated outstanding community orthopaedic contributions
•              Dedicated professional life to excellence in research and education at all community levels
•              Personal qualities of integrity, compassion and leadership in orthopaedic trauma.

In addition, it is requested the award recipient agree to the following:
•              Serve on the selection committee for the following year's CSAA Award
•              Attend the OTA Annual meeting to accept the CSAA Award
•              Must be an OTA member in good standing.
Award Recognition
•              The award recipient shall be recognized at the OTA Annual Meeting, in OTA publications and/or in press release.
•              The honoree will receive complimentary registration to the OTA Annual Meeting, and travel and hotel reimbursement (maximum reimbursement of $2,000).
•              The honoree will receive a plaque to commemorate the award.
The OTA extends sincere appreciation to the AFA for their partnership in the establishment and funding of this annual award.  About the AFA: The 'Ambulatory Fracture Association' was founded in 1938 by a group of mid-western surgeons who gathered together to discuss various types of fracture care and trauma related issues.   In 1952, under the leadership of President Henry Meyerding, the name was changed to the American Fracture Association (AFA), and the scope of the organization began to expand. Over the ensuing years, the organization expanded to engage international orthopaedic colleagues, establish a research fund, and awarded orthopaedic educational grants known as  'Meyerding Awards'  to aspiring young orthopaedic residents.