Orthopaedic Trauma Coding Resources
Provided on this page are coding resources for orthopaedic trauma surgeons.
OTA Coding Listserv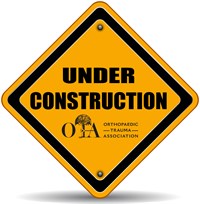 **The OTA Coding Listserv is not in service. The OTA staff office will let members know when the Coding Listserv is in service.**
This list-serve was created in order to facilitate communication and share knowledge regarding orthopaedic trauma coding questions. The OTA Practice Management Committee monitors this page. The list is open to only OTA members, and is intended for orthopaedic trauma surgeons or other medical professionals only. The OTA requires all participants to remove all identifying information from historical data and to comply with HIPAA restrictions regarding disclosure of protected medical information. Opinions shared on this list-serve are solely those of the individual participant, and are not endorsed by the OTA. No participant on the list is authorized to speak for OTA in any manner.
Orthopaedic Trauma Coding "Cheat Sheets"
The following "cheat sheets" are available for download on the OTA Members page.
Blue Sheet / Operation Coding Sheet
Trauma Clinic Sheet
Surgical Billing Form
Orthopaedic Coding Courses
OTA Coding Course: The OTA offers an orthopaedic trauma coding course one day prior to the Annual Meeting. Margaret Maley BSN, MS, consultant with KarenZupko & Associates, Inc., leads this course tailor-made for orthopaedic trauma surgeons. Please view the Annual Meeting preliminary program for details.
AAOS Coding Courses: Presented by the American Academy of Orthopaedic Surgeons in conjunction with KarenZupko & Associates, Inc.