2017 OTA Annual Meeting
Vancouver, BC - Vancouver Convention Center
October 11-14, 2017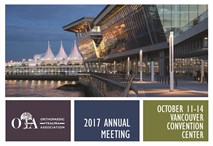 Registration - Opens early June                 
Resident Fracture Course - October 11-13
Exhibition and Sponsorship Opportunities
Abstract Search - search OTA abstracts from previous years
Meeting Details 
The Orthopaedic Trauma Association's 33rd Annual Meeting will be held in Vancouver, BC at the Vancouver Convention Center.  
Registration will open in early June. The preliminary program will be available when registration opens. 
Abstract & Symposia - SUBMISSION CLOSED -  Submitters have been notified of acceptance. 

Travel and Housing 
Housing 
Discounted room rates have been secured at area hotels for OTA attendees. Reservations can be made online or by calling (877) 632-8165.  Rooms at the discounted OTA rates can sell quickly so be sure to book your hotel early for the best selection and price. The Fairmont Waterfront, Hyatt Regency Vancouver, Pan Pacific Vancouver and Vancouver Marriott Downtown are all included in the meeting block. All scientific sessions and exhibits will be held in the West Building of the Vancouver Convention Center.
Passports and Visas
Traveling and don't know what the requirements are for your country? Find out if you need a visa. Should you require a letter of invitation in order to attend the meeting and obtain a Visa, contact OTA at ota@ota.org.  
US Citizens, if you plan on flying to Canada you will need a valid passport with one blank passport page and the passport must not have an expiration date within six months of October dates of travel. Check your expiration date now and renew immediately if necessary.  
Children 15 years of age and under are now required to show proof of citizenship. They are not required to show photo ID. If you are traveling with children, you should carry identification for each child. 
Airport
Vancouver International Airport (YVR)
Taxi Service
From the airport to the Convention Center and OTA designated hotels: $31-$40
Currently, Uber and Lyft are not available in Vancouver
Public Transportation
Vancouver has an efficient transit system in place with several options to get around the city and to and from the airport and downtown Vancouver.
Trans Link: Find all the schedules, route maps, station locations, travel times and connections for every mode of public transit — Bus, SkyTrain, SeaBus and West Coast Express — in Metro Vancouver.
If you plan on taking the SkyTrain from the airport, please check your hotel's website for directions. Some of the hotels have SkyTrain directions posted on the Directions section of their website.
Fairmont Waterfront | Hyatt Regency | Vancouver Marriott
Canadian Currency
All of Canada uses the Canadian Dollar (CAD). The Canadian dollar's value floats against that of all other major currencies. For up to date exchange rates visit www.xe.com/currencyconverter.
Time zone
Vancouver is in the Pacific Time Zone (PST) 
Contact OTA with questions
Email: ota@ota.org 
Phone:  847-698-1631 
Mon-Fri 8 am-4 pm Central