On Demand Questions and Answes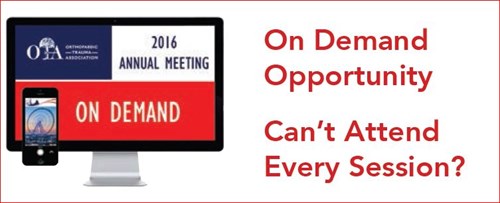 To Order On-Demand: click here
1. Will the video online access be streaming live during the OTA Annual Meeting and Pre-Meeting events?
    No, the video access will be available within 3 weeks of the Annual Meeting...
2. How long will the video access be available?
    Two years.
3. Will attendee earn CME for watching the video online acess?
     Yes, CME can be earned. 
     Open this PDF to read about transfer of CME to your AAOS transcripts.
4,  PDF listing of planned pre-meeting and sessions tapings
5.  Can I purchase this supplement after the meeting?
      Yes, but the price will increase.
6. Open here for On-Demand additional information
Slides with synchronized audio. This technology recreates the live session experience.
Online access from any computer, tablet or smartphone. Start watching on one device and pick up where
you left off on another device.
PDFs of presentations can be downloaded onto your computer for easier review and note taking.
MP3 audio files are easily loaded onto your favorite MP3 player, so you can listen to sessions while on-the-go. 
Portable USB drive is included with your order so you can access your sessions even when an internet connection isn't available.