Michael W. Chapman, MD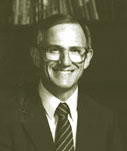 OTA Founding Member & Past President

Dr. Chapman was born in Newberry, Michigan, USA and was educated in California. His undergraduate studies were at American River College in Sacramento and the University of California Davis. He received his M.D. from the University of California, San Francisco in 1962, completed his residency in orthopaedic surgery at the same institution in 1967. He was board certified in 1969 and recertified in 1983 and 1994. He gained experience in total joint arthropasty at the Royal National Orthopaedic Hospital in London from October 1967 to January 1968. He served in the United States Army as the chief of orthopaedic surgery at the Supreme Headquarters Allied Powers Europe from January 1968 to August 1969 and then as chief of orthopaedic surgery at the 33rd Field Hospital in Wurzburg, Germany from September 1969 to December 1970 reaching the rank of major. He joined the full time faculty of the University of California San Francisco in January 1970 as the assistant chief of orthopaedic surgery at San Francisco General Hospital. From August, 1978 to August, 1979 he was an NIH Fogarty Senior International Research Fellow at the A-O Davos Research Institute in Davos, Switzerland following which he became the chair of the Department of Orthopaedic Surgery at the University of California Davis. He was appointed full Professor in 1981. From 1998 to 2000 he held the David Linn Endowed Chair of Orthopaedic Surgery and from 2000 to 2001 the Michael Chapman Endowed Chair. Dr. Chapman retired in February 2000. He continues to be active as an Emeritus Professor with full active staff privileges at the University of California Davis Medical Center. His specialty interests are orthopaedic trauma and post-traumatic reconstruction. He has a total of 166 publications (59 peer reviewed) including the third edition of the four volume, 4,601 page, general textbook, Chapman's Orthopaedic Surgery . His leadership positions have included service on the boards of the American Academy of Orthopaedic Surgery, American Orthopedic Association (AOA), A/O, Journal of Bone and Joint Surgery (JBJS), and the Orthopaedic Trauma Association (OTA). Her served as president of the AOA and the OTA, and was chair of the Board of Trustees of the JBJS from 2000 through 2001. He is a member of 10 international, 17 national, and 4 state professional organizations. He holds 8 U.S. patents for the development of a bone fixation system. His honors have included four outstanding teaching awards, and listings in The Best Doctors in America , Best Medical Specialists in North America and Best 100 Doctors in America . He is married to Elizabeth (Betty) Casady Chapman and they have two adopted sons. His outside interests include hiking, biking, snow and water-skiing, ski mountaineering, scuba diving, adventure travel, and photography.