Howard Rosen, MD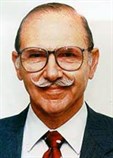 A Special Tribute to Howard Rosen, M.D.
(1925 - 2000)

- by Joseph Schatzker
Great teachers are born, not made. They are naturally imbued with a passion for their subject, a real care and concern for students, a genuine desire to impart knowledge, and often a theatrical flare, stage presence, sense of timing, and a flare for humor. Howard Rosen was a great teacher and possessed all of these talents. At lectures with a twinkle in his eye and a twitch of his well waxed and groomed mustache he established an immediate rapport with his listeners. He was never at a loss for a good story, an anecdote or joke.
Howard never dazzled his audience with audiovisual wizardry, but the X-ray slides of his cases spoke volumes about his technical prowess as a surgeon and demonstrated his very thorough understanding of the biological and biomechanical principles which underpinned his rationale of treatment. His accompanying vignettes of the patients' personal histories also made one realize that each case was not only a surgical challenge but represented a human being for whom he had great empathy.
Howard could lecture with equal mastery on any subject relating to trauma but his favorite subjects were the treatment of impossible pseudoarthoroses and bone infection. During the lectures Howard would become so engrossed in his subject and would relive each case in such detail that he often would be just short of finishing when his time was up. We all well remember his good natured plea " Oh, let me show you just one more case before I finish".
Although as a lecturer Howard was in great demand, it was during the hands-on practical laboratory exercises where he truly shone. One often saw him at a fracture model surrounded by the table participants who stood totally enraptured. No question was too simple. Howard displayed infinite patience. Despite his seniority he never intimidated and made the most junior residents feel completely at ease. Howard was never too tired to teach and unlike many of his younger colleagues who found table instruction tiring or boring, Howard, even in his later years, always looked forward to be with his "table." One on one contact was Howard's true forte and love.
The greatest surgical teachers are usually great surgeons. Howard was an innovative and meticulous surgeon with a quest for absolute perfection. Each step of the procedure was executed with equal care and attention. If at the end of a long case Howard was not absolutely satisfied with the result he would take everything apart and start from scratch.
Surgery for Howard did not stop in the operating room. As meticulous as he was at the operating table so was he in the postoperative care. He seemed never in a hurry no matter how late in the day or how tired. Each patient received his care and all his attention. Howard loved his patients and in return was adored by them.
Howard Rosen was born in New York City in 1925 and was raised in the Bronx. He graduated magna cum laude from New York University and then attended the NYU School of Medicine. In 1948, Howard began to practice as an orthopedic surgeon in the City of New York joining the staff of the Hospital for Joint Diseases. An illustrious but conventional career was certain but a chance encounter in 1959, at an orthopedic exhibit changed its direction entirely.
In 1959 Howard attended the SICOT meeting in New York City and there at an exhibit he caught a glimpse of the young Maurice Müller who was stunning his audience with the demonstration of many cases of fresh fractures and salvaged pseudoarthroses treated by means of absolute stability which he achieved with the help of compression. This was a totally revolutionary form of surgical treatment of musculoskeletal problems. Howard's interest was not only piqued by curiosity and desire to learn this revolutionary and promising technique, but also by his concern for an uncle of a close friend and colleague whose love for tennis had been marred by a recalcitrant pseudoarthrosis of his humerus which failed to heal despite numerous surgical attempts.
Howard was so impressed by what he saw that he arranged for the uncle of his friend to be treated in Switzerland by the relatively unknown Professor Müller. The uncle returned without a cast and without any immobilization. The non-union healed soon thereafter. The exhibit at SICOT and the experience with his friend's uncle so fired the imagination of the young Howard that he arranged, entirely on his own, to be the first North American surgeon to attend the first AO course held in Davos, Switzerland in 1960. Howard returned armed not only with enthusiasm and new knowledge, but also with a personal investment in the set of the basic AO instruments and implants which he carried to North America in his suitcase.
The AO course in 1960 launched the young Howard on a course which led him to become a brilliant traumatologist and a most courageous exponent and pioneer of the AO surgical treatment of fresh fractures and complications such as infection and non-unions. At that time, the surgical world of North America and that of the rest of the world was steeped in conservatism. An aggressive surgical approach to fractures, which would normally have been treated in plaster, was considered almost malpractice.
However, Howard was a careful clinical observer who carefully studied the patients he treated. Since the results of this new Swiss method of treatment were superior, Howard became convinced that the theories of the AO were correct and the way of the future. He became a relentless exponent of the AO methods. Now his professional life became very exciting because not only was he able to bring healing to many whose problems were considered insoluble, but his great skill as a teacher allowed him to share this new knowledge with an ever growing number of well established practicing surgeons as well as with the "upcoming" generation of residents and young surgeons. His skills salvaged many complex and difficult fresh fractures. He also showed great surgical genius and inventiveness in his treatment of many abandoned "untreatable" non-unions and infections. Howard became not only a persuasive exponent of the new and revolutionary techniques but also a master at execution and application of all the new principles of biomechanics and surgical techniques.
Around 1966, Howard's sphere of surgical interest began to widen. He became interested in the fledgling field of Veterinary Medicine and began to work as a consultant at the Animal Medical Center in New York where he performed surgery on injured race horses and other animals, first with his colleague Jacques Jenny and subsequently with his life long friend Bruce Hohn. In 1973 Howard was elected an Honorary Fellow of the American College of Veterinary Surgeons and the following year, with a small group of his close veterinary colleagues, the founding member of the Veterinary Orthopaedic Society. Howard continued his close association with his Veterinary colleagues throughout his surgical career and was a frequent faculty member of the Veterinary AO courses held in Columbus Ohio.
In October, 1973 during the twenty-two day Yom Kippur war in Israel, Howard and his wife Connie ( Constance) left New York to volunteer at the Rebecca Sieff Hospital in Safed, Israel. The hospital, located only ten miles from the front, was inundated with freshly wounded soldiers. Their wounds were not the injuries Howard was accustomed to treat. Missiles created devastating injuries which defied standard approaches. But Howard's skill and ingenuity in the application of the emerging new AO external fixateur saved many limbs which would otherwise have been amputated.
Throughout the subsequent busy years of his international career as a surgeon and teacher, Howard and Connie made frequent trips to Israel. On these occasions Howard would teach and perform surgery and renew his ties with the Israeli orthopaedic world and its surgeons. He developed particularly close ties with the Shaare Zedek Hospital in Jerusalem. In 1991 the hospital honored him with the distinguished Rofeh Award, and in the following year bestowed an even much greater honor by renaming the Orthopaedic Department of the Share Zedek hospital the "Professor Howard Rosen M.D. Orthopaedic Institute".
At the time of his death when most surgeons would have been long retired, Howard was still the Chief of the Problem Trauma Service at the NYU Hospital for Joint Diseases Orthopaedic Institute in New York. He was also an active attending Orthopaedic Surgeon at the Beth Israel Medical Center in New York, and the Clinical Professor of Orthopaedic Surgery at the NYU School of Medicine/Mount Sinai School of Medicine in New York City. He continued also with great pride and personal satisfaction as the Adjunct Professor of Orthopaedic Surgery at the Ohio State University, Department of Clinical Sciences, in Columbus Ohio.
During his very busy international career as surgeon and teacher, Howard published fifteen chapters of medical books and wrote well over fifty-five articles, abstracts and forewords in various medical journals. He chaired, organized and served as faculty for nearly 300 courses and symposia held in the U.S.A. and around the world. He acted as a visiting Professor to orthopaedic departments and universities, lecturing and participating at grand rounds and performing operations almost 100 times from 1973 to the present throughout North America and fourteen other countries. He received many honors and awards. In 1993 the Hospital for Joint Diseases Orthopaedic Institute presented Howard with the Frauenthal Medal awarded each year to the most outstanding member of its faculty. Howard was the first recipient of this great honor.
It will be difficult to think of an AO course without Howard. From his early pioneering days Howard worked relentlessly on behalf of the AO. Howard was a member of faculty of every major AO course held in North America, a member of the faculty of every English Basic and Advanced AO course held in Davos since the late 1960's and a faculty member of many AO courses around the world. He served on many committees and was a member at large of the AO International commission.
Howard had a great sense of the "AO Family". After having served two terms on the Board of Trustees, in order to ensure his continuing presence at the Trustee Meetings and show the affection and respect
in which he was held, the AO Foundation Trustees voted unanimously to make Howard Rosen the first Honorary Member of the Board of Trustees.
No mere surgeon could leave the mark that Howard left and imbue so many people with a sense of loss. Howard was a fine and honorable man whose humanity transcended his stature as a surgeon, scientist and teacher. During my last visit to Howard in early June, as he lay dying in hospital, as I was leaving I turned to Howard's nurse and stated that I was a close friend. "But Dr. Schatzker, she replied, "everyone who has been here, and Dr. Rosen has had many many visitors, said that they were close friends". This remark characterized Howard's special relationship with people.
Howard loved people and people loved Howard. He had the unique quality of making everyone feel special and he displayed a great interest in all their personal and professional affairs. Howard especially loved children. He understood them and the things which were important to them. He knew how to talk with them and also had infinite patience to spend time with them. There were times when he made me feel inadequate as a father. While I went skiing Howard, instead of joining us on the hill, took my teenage son Mark, fly fishing. Fishing was one of Howard's passion. However it was not the fishing or catching fish which was important. Howard wanted to spend time with my son. He loved young people and longed for grandchildren. While waiting for his own grandchildren Howard adopted the children of his friends. My three sons who are now grown men always looked upon Dr. Rosen as "Uncle Howard." There was a special bond, a special understanding between Howard and children which was unique.
Howard's greatest friend colleague and admirer was his loving wife Connie. We all feel an immense loss and a personal bereavement but the loss felt by Connie and her family is infinitely greater. Connie was Howard's confidant, advisor and his informer of the great world which lay outside the demanding world of surgery. Connie's passion for art, literature and music were shared with enthusiasm by Howard for his interests were anything but narrow.
Howard loved his family and always found time in his almost impossible schedule to spend time with Connie, and with his two daughters, Aileen and Terry. His daughters, were his pride and joy who enriched his life by expanding the family circle with husbands and children. After many years of waiting, Howard was rewarded with grandchildren. His joy was immense and he was always ready to show the latest pictures of his passion. It is sad that death robbed Howard of the joy of playing with the twins who were the last grandchildren to be born. However he shared much of his granddaughter, Maya's childhood and did have the great joy to see Isabelle and August born and begin to grow into the loved and loving human beings he would want them to be.
We, his surgical friends and colleagues, are deeply saddened and grieve at his passing. His many patients grieve at having lost their doctor and friend. His family mourns the loss of a husband, a father, and a grandfather. The world suffers the lost a unique human being. His like does not come our way frequently. We are the richer for having known him.